BEGIN WITH A SOFT BRISTLED TOOTHBRUSH.
ANGLE THE BRISTLES AT A 45 DEGREE ANGLE TOWARD THE GUMS.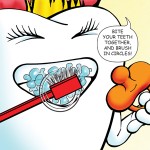 BRUSH IN SMALL CIRCLES, AND BRUSH BOTH THE INSIDES AND THE OUTSIDES!
BRUSH THE TOPS!
BRUSH YOUR TONGUE!
Remember to change your brush every 3 months, or sooner if the bristles are splayed.  Worn out bristles can damage teeth and gums.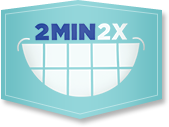 Click here FOR GREAT 2 MINUTE LONG VIDEOS TO WATCH ON YOUR CELL PHONE WHILE IN THE BATHROOM BRUSHING!
BRUSH TWICE A DAY FOR 2 MINUTES EACH TIME!
(www.2min2x.org is an educational collaboration between the American Dental Association (ADA) and the Ad Council.  Link used with permission.  Please contact the ADA for more information on the 2min2x.org campaign.)