GIVING BACK TO THE KIDS
A portion of the proceeds from every sale of MolarTron® books & products is donated to help low-income children obtain brushes, floss, toothpaste, and basic dental health education.   Thank you for helping us contribute to the greater dental good so that kids everywhere can have happy healthy smiles!
To make additional donations, please contact the following dental charities in need of immediate support. THANK YOU!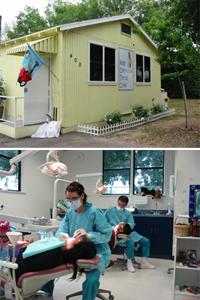 The Kids' Community Dental Clinic
400 N. Elmwood Avenue
Burbank, California 91506
(818) 841-8010
www.kidsclinic.org
The Kids' Community Dental Clinic was originally created to fill a crucial gap in oral health care services for children of low-income working families. A children's dental clinic existed in Burbank for almost 30 years through the generosity of the Sisters of Providence, St Joseph Medical Center. When the hospital dental clinic closed in 1997, many parents had a difficult time finding low cost dental care for their children. In 2002, after much planning and with strong local support, the doors were re-opened to the community by a previous volunteer hygienist, Carole Nese, our founder. Since that time, known as the Kids' Community Clinic, 3 programs have been offered including in-clinic treatment, school screening and fluoride treatments (free), and public health fair event screenings. During these tough economic times, the mission is even more critical. While a minimal fee of $15 per visit is charged, no child is turned away for lack of payment. After all, if your teeth hurt, you cannot learn. And your smile is your gateway to the outside world.
GIVING BACK TO THE ANIMALS

MolarTron has made a donation to the Valley Wildlife Care rescue group that saved the baby finch. Won't you please make a donation, too?
Valley Wildlife Care Home
www.valleywildlifecare.org
MolarTron Rescues a Baby House Finch!
This little birdie flew into a glass door at the movies when she was learning how to fly, but luckily MolarTron was there to save her life! She is now happily recovering (and eating and chirping) at the Valley Wildlife Care foster home, in Van Nuys, California. Did you know that birds beaks keep growing, just like our nails? They need to be filed down or clipped regularly when in captivity.
In fact, if their beaks grow too long, it can cause the jaw to become positioned sideways. If that happens, birds cannot eat properly. But no worries! A vet can trim the beak (like trimming nails) and help put the mouth back into the correct position.