HEALTH ALERT FOR ALL CAREGIVERS WHO TREAT AFRICAN CHILDREN: INFANT ORAL MUTILATION VICTIMS ARE SHOWING UP IN DENTAL CLINICS, PRIVATE PRACTICES, AND HOSPITAL EMERGENCY ROOMS AROUND THE WORLD.  PLEASE BE AWARE.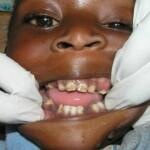 Many citizens all over the African continent believe that when an infant gets a fever and/or diarrhea, or has worms in the stool, that it is because there are worms living in the erupting baby teeth or in the erupted teeth.  The infant is whisked off to the local Medicine Man or Woman to have the baby tooth or buds gouged out from under the gums with unclean knives or tools, without anesthesia.
This procedure, known as Infant Oral Mutilation (IOM), can lead to bacterial infections in the infant's bloodstream, often leading to death. Many Africans are still practicing IOM in communities all around the world, including the United States of America.
If you are a health-care worker who often sees or treats young children, please be on the lookout for IOM in your hospital, private practice, or clinic.  Please watch the following video and learn more about Infant Oral Mutilation so we can stop this practice once and for all! The soundtrack is in Swahili, but you will surely get an understanding of IOM from the video.
Kinga Africa is a registered non-governmental organization in Kenya, Africa which promotes oral health among needy communities. Along with co-sponsors Colgate, Dentaid, Geneva Global, White House Dental Practice, and the Ministry of Health, we are honored to be a part of their action against INFANT ORAL MUTILATION.
Please support Kinga Africa via Paypal and help them get a vehicle to access children and adults in remote villages. Thank you very much!        www.kingaafrica.com