All of us out here on Planet Molar X just absolutely LOVE the human being named William Shatner.  He helps raise millions of dollars for charities, and once he even donated his own kidney stone to raise money for "Habitat for Humanity!"  Not only has he entertained many intergalactic species over the years, but he helped to spark our author's childhood interest in science when he played the dashing Captain Kirk on "Star Trek."  Thanks to William Shatner and the genius of everyone involved in "Star Trek," we dental super heroes were created to help human children have a fighting chance against every Earthling's nemesis, Dee Kay.
William Shatner loves horses, too!  Naturally, so do we!  When they're not brushing twice a day for two minutes to fight Dee Kay, our colorful Bristle Beasts run in herds on Planet Molar X.  Bristle Beasts love to roam along the beaches of the Salivary Sea.
 We admire William Shatner's devotion to contribution!  Every April, he hosts the "Hollywood Charity Horse Show" in Burbank, CA, which helps raise money for KIDS!  We want to help him help kids so we're donating autographed books and toothbrushes for the auction.   We hope you'll come to his show with us on April 27, 2013!   Check it out!  www.horseshow.org.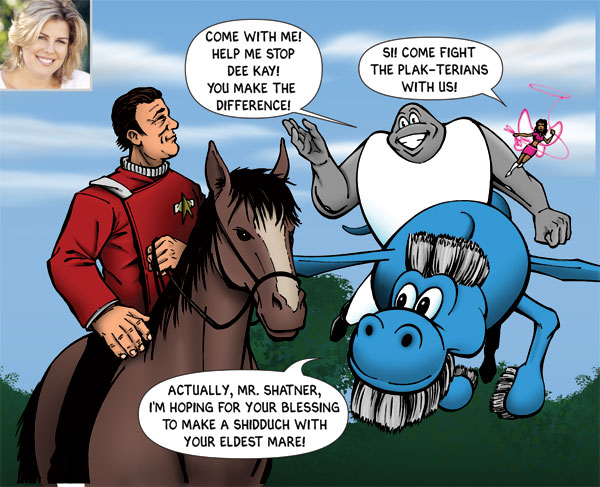 William Shatner is sweet to his fans.  You can talk to him on Facebook and Twitter, and if you get lucky he'll answer you back.  Here is our FIRST CONTACT:

William Shatner is a giver.  He gives us belly aches from laughing!  Did you see him play Denny Crane?  Have you tried his Shatoetry app?  It's a blast to make up poetry that is recited in his distinctive voice!   His albums are a riot, too!  He's an extraordinary actor, comedian, and entertainer.  He took his millionth Twitter follower out to dinner as a thank you!  Plus he boldly gave America the very first interracial kiss when he kissed the African American Lt. Uhura (Nichelle Nichols) on TV!  And along with Spock (Leonard Nimoy) and the Star Trek cast and crew, Shatner's Captain Kirk character was able to garner international public awareness of the plight of endangered humpback whales!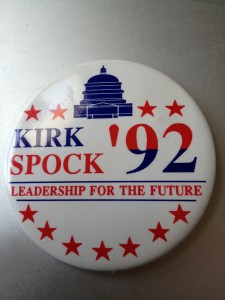 All we can say is Shatner Rules!  Thank you, Star Trek!  Thank you, Gene Roddenberry!  Thank you, Bill!  See ya 'round the galaxy.
Love,
Suzi, MolarTron, Bristle Beast, and Flossie Floss'riguez
Planet Molar X